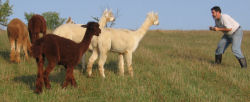 We are Marj Brady, Steven Martin and our children Douglas and Jennifer, city dwellers transplanted to the country. Back in 2002 Marj was unhappy in her employment and struggling to find a career change that fit her needs. Steven was relatively laid back and just wanted Marj to be happy. The kids were at an age where they still had to go where they were put. After lengthy internet research, several farm visits, much serious thought and long consideration (at least a month or two) Marj decided to buy a couple of pregnant alpacas in April 2003 with the intention to agist these girls at the host farm and learn as much as possible while developing a business plan.
After the birth of two crias, more serious thought and more consideration (at least another 4-5 months), Steven came home and told Marj that he thought they should look for a farm in the new year. Buying a farm seemed like a good idea at the time, after all how difficult could it be???
After checking out several farms within a 2 hour drive of Toronto we found one that met most of our needs and we moved to our farm in Stirling in the summer of 2004. Our 12 animals followed in October that same year and the fun began.
We are breeding for fine soft dense fleeces and our herd consists of descendents of some well known bloodlines and some not so well known. We're aiming for controlled growth of our herd as we enjoy getting to know the individual animal's personalities and idiosyncrasies and would prefer to keep a smaller herd size.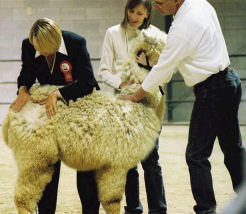 As with so many aspects of life there are occasionally less than stellar moments to alpaca farming. Sometimes you're the "spitter" and sometimes you're the "spittee" but there's always a smile waiting in our pasture and sometimes an outright belly laugh. Whether you're interested in learning a little about alpacas, looking to purchase breeding stock or are an established breeder looking to visit and trade some stories please feel free to give us a call and come by for a visit. For more information about us and how we do things please go to our "BEAN PILE" where you'll find out how we've adjusted to this lifestyle and gain a better understanding of our perspective on alpaca breeding and country life in general.